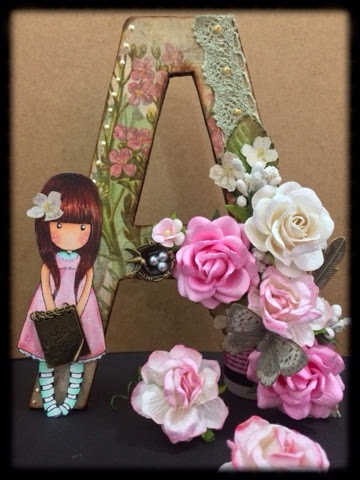 Hi friends, It's always fun to create your own personalized decor. I was looking for a big alphabet since long but could not find it anywhere.
So I decided to make my own. I drew "A" on a chipboard and cut it thrice and glued them together so that my chipboard is as strong as wood.
That's quite easy ....seriously :)
And here is my very own monogram to be placed in my craft room .
I chose a beautiful paterned paper and adhered it with modpodge which made it super strong and shiny.
Distressed the egdes and added some liquid pearls to add some oomph !
It's extreemly important to embellish our projects well . Everyone has their own ways to jazz up the projects ,I love the mulberry flowers and the pollens which make a beautiful bouquet together .
My second most favourite embellishments are the metal charms and they go extreemely well with the flowers.
Have a look at this and create your own monograms and do share the pics with us.hope u like it!!!
A closer look at the bunch ..
I misted it with some glitter spray added the feather charm and a fussy cut butterfly
This is the super cute gorjuss doll holding another awesome charm.
Our store is loaded with these adorable metal charms, flowers and pollen fillers .
So what are you waiting for ...check it out at www.crafterscorner.in
Thanks for the appreciation and kind words you shower on me...
Keep crafting ..
Hugs
Arjita
List of supplies :
Copic markers ( stash)
Lace trim (stash)