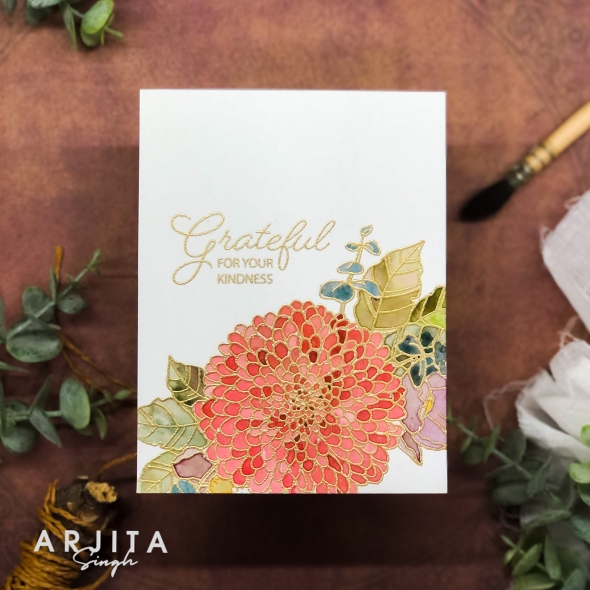 Hi everyone, it's time for Gina K designs June 2023 release and I have a beautiful stamp set called Decorative Dahlias. Today I have use this stamp to create a beautiful and quick card. I have used heat embossing to create a resist, and that really helps the water colouring to be quick and pretty.
To begin with I placed the A2 size card panel on to the Misti and stamped the image using Gina k designs Watermark Embossing ink. Once the impression was perfect I used Gina k Designs Gold embossing powder to emboss this floral cluster. Then I allowed my heat gun to heat up well and then melted the embossing powder. It's always so much fun and to watch the embossing powder melt and create a beautiful metallic effect.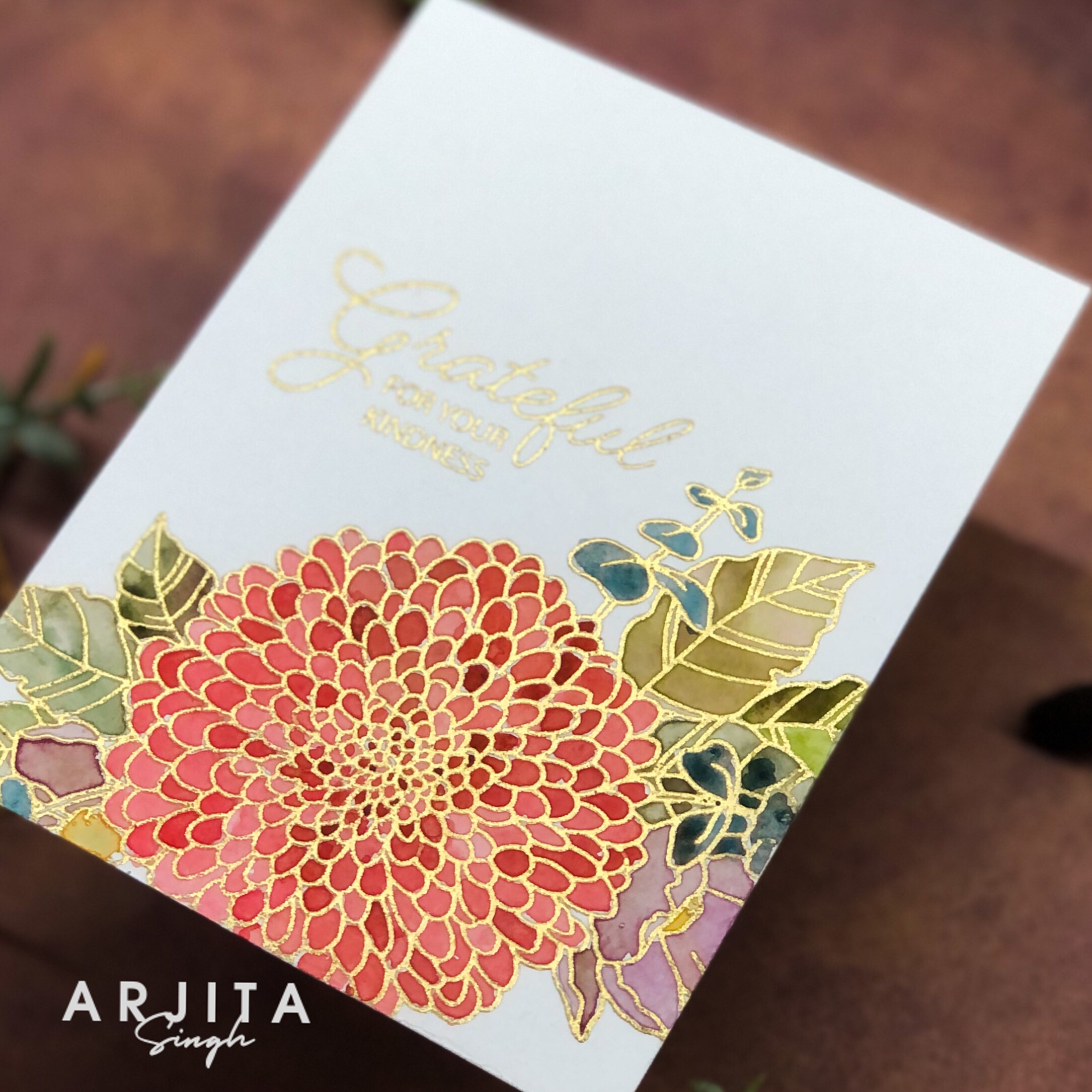 Next I used my Daniel Smith water colours and mixed some shades of greens,red, and purple. I added a lot of water into my mixture and using a watercolour brush I just started dropping that colour into the wells created by the embossing powder. The water colour stays within the lines and this effect looks really really pretty. It starts looking like glass painting and has all these variations in the shades which looks so beautiful. This looks very intricate but trust me it was a very quick and I have a video tutorial for you where you can see what exactly did and how this card was made.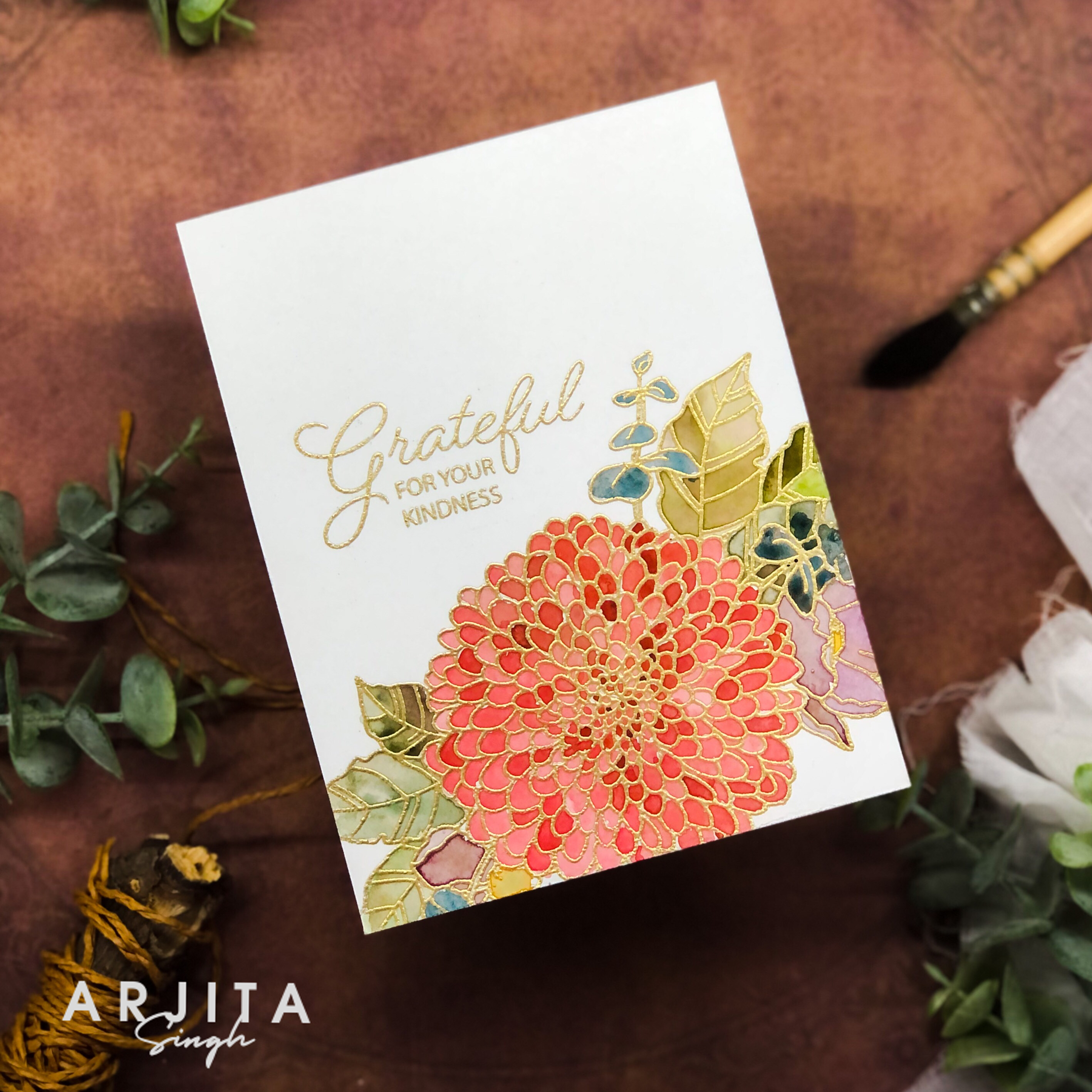 You can watch the video here/Watch on Youtube
Hope you liked the card...
Thanks for stopping by
love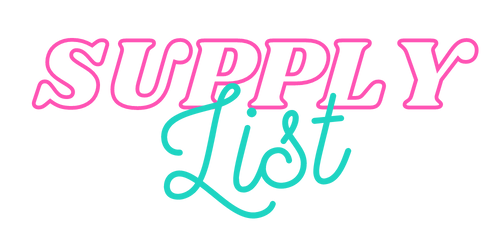 *STAMPS- Decorative Dahlia - Gina K...

Daniel Smith LUNAR BLACK 5ML Extra...

Daniel Smith QUINACRIDONE PURPLE 5ML...

Daniel Smith YELLOW OCHRE 5ML Extra...

Daniel Smith QUINACRIDONE RED 5ML...

Daniel Smith QUINACRIDONE CORAL 5ML...

Daniel Smith SAP GREEN 5ML Extra Fine...

Daniel Smith CASCADE GREEN 5ML Extra...

Daniel Smith GREEN APATITE GENUINE...

Deep Sap Green, DANIEL SMITH Extra...

MISTI PRECISION STAMPER VERSION 2.0...

Canson XL BRISTOL SMOOTH 9 x 12 Paper...

Gina K. Designs Embossing and...

Powder Tool Adhesive Deactivator...

Ranger EUROPEAN VOLTAGE HEAT IT CRAFT...

EMBOSSING POWDER- Detail Gold - Gina...